Sometimes we get jealous of our American Cousins. When it comes to receiving their Star Trek dosage they get Venus drug potency whilst we get vanilla. The balance has started to change though and we got excited a couple of weeks ago when we learnt that 500 IMAX cinemas worldwide would be showing the Star Trek into Darkness 9 minute preview along side The Hobbit.
Worldwide.....that has to include the UK, right?!
Well we have been searching and searching and today we were provided with a list of the first 8 Cinemas to announce that they will be showing this preview. Whilst we're very excited to find out it seems that this news has been out for almost two weeks! 
But in case we're not the last people in the UK to learn about this here are the locations with more to be announced soon: Cineworld: Dublin Nottingham Enfield Crawley Sheffield Edinburgh Ipswich Birmingham As soon as the others are …
Continue Reading ››
The Star Wars/Disney conversation on the internet was briefly halted on the 14th Nov when Paramount Pictures announced it would be previewing 9 minutes of Star Trek into Darkness at IMAX cinemas. (Press release: PR Newswire)
Forgive us our morbidness, but anyone who has watched fanboys will understand. Every time there has been a Star Trek movie on the horizon, a dark thought, a dark twisty thought has entered our minds. For approximately 0.4 seconds (nearly an eternity, we know) we think 'a year away....we might be dead!'. Bizarre, but nonetheless, we mere mortals can never be sure when our time up and we can't help but catastrophize whilst waiting for new Star Trek. 
Therefore we are mighty glad to hear that IMAX cinemas are releasing a 9 minute preview of Star Trek into Darkness on December …
Continue Reading ››
In our last post we talked about a series of Trek related coincidences at Tesco. Well stranger things have happened. And here it is!
I (Sam) am currently studying to become a counsellor (yes, I want an office and chocolate supply like Troi). So one day I'm reading a text book and I notice these set of names.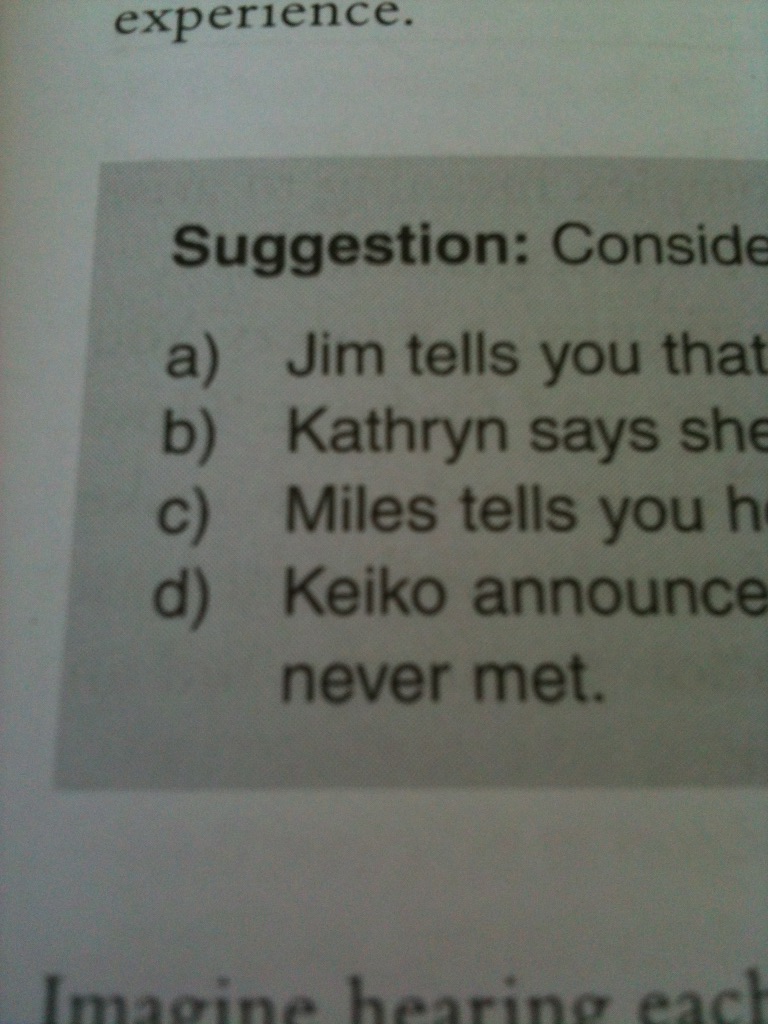 I chuckle to myself. Only a trekkie would put that together. And read on.
A couple of pages later. I stumble upon another fictional client (right). Kess.
Not spelt right, but hey. I'm starting to wonder if I am going bonkers. Do I really see Star Trek everywhere!?
We're starting to feel like that creepy boy from The Sixth Sense. We see Star Trek everywhere. Or is this too much of a coincidence for one supermarket?
Firstly, a confession to all of you who believe we always replicate our food or handmake our own hasperat. Sadly, it's not true we have to resort to these Ferengi ran supermarkets occasionally.
But look who was wondering around the corridors of Tesco yesterday.
Spot the Voyager costume?? It's not a great photo because I felt weird taking a picture of a stranger in Tesco. It was some sort of a mechanics costume but obviously designed to imitate Star Trek (Once you have eliminated every other possibility, what ever remains must be true). It was accurate right down to the blue undershirt. 
I … Continue Reading ››
Forget bonfire night and cancel the community fireworks display because tonight at 7pm Syfy channel is boldly going over season one of Next Gen in HD!
We got the Taste of Blu ray disk back in January and it tasted good! But neglectful friends and relatives ignored our requests for season one in Blu ray for our birthdays. Therefor we are mighty glad it is now on TV. In someways, it is better. If we had the box set, we would have watched them all in a couple of sittings. Probably whilst doing something mundane like ironing. Having TNG as a weekly treat will allow us to look forward and savor it. 
Picard: We warned you not to laugh when Worf orders Prune Juice Data: Now run
24th Century Socialites. 21st Century high functioning nerds. We go to Star Trek Conventions and talk about Star Trek a lot.